Deer Hunting Packages
Randy Petrin (Registered Maine Guide)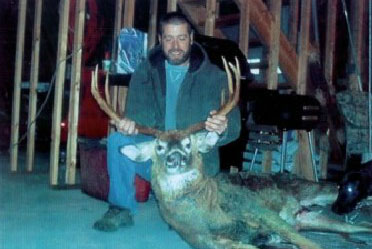 Hunt the Western Mountains of Maine, huge Bucks await you in about the last "Big Woods" around. Hunt trophy Bucks, many are well over 200 lbs. Hunt from blinds, stands or do some tracking if weather permits.
Our Guides will work for you!
Jackman is Bucks only (WMP#8). You can apply for Doe permits, check out all Maine Hunting Regulations and/or obtain non-resident licenses from this State of Maine site, click here to apply. (Prices listed do not include the agent fee)
Non-Residents Licenses can also be obtained at many area businesses.
Over 50 years Guiding Experience!
TRY ONE OF THESE GREAT PACKAGES
6 Day hunts Monday thru Saturday (no hunting on Sundays in Maine)
Fully Guided 6 day Hunt includes:
$800.00
Guide, lodging in a full housekeeping cabin, transportation to and from the hunting area and some care of the animal.

REFERENCES AVAILABLE

One on One Hunts

are also available, call about pricing.
Meals can be provided for an additional $200.00 a week
(6 Day) (Monday - Saturday)
Guests who have week long hunts arrive on Sunday and depart the following Sunday.
If 6 Day Hunts don't fit your schedule, call and we may be able to work a smaller package.
If you have questions or you would like to make reservations, please call
(207) 668-4872
Home (207) 668-9031