Our Cabins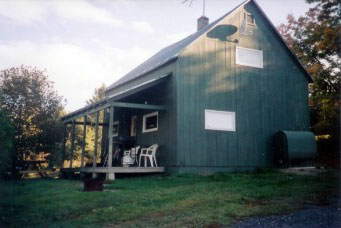 We offer very clean & comfortable full housekeeping cabins.
Each unit has its own bath, satellite TV, and monitor heat.
All linens and towels are provided. Each kitchen is fully stocked with refrigerators, stoves, microwaves, coffee pots, pots and pans and all dishes.
COST PER NIGHT: $40.00 PER PERSON PER NIGHT
PLUS 9% LODGING TAX
KIDS STAY 1/2 PRICE!!! - FIVE AND UNDER FREE
All our camps have porches so you can sit and relax outside. They all have firepits (we sell wood if needed), picnic areas.. A large swing set, basketball court and a swimming raft available to guests. Beaches are close by. All guests can use row boats, canoes, kayaks and peddle boats free of charge with cabin rental. Long Pond has fish such as brook trout, perch, salmon, sunfish and other species. It's also great smallmouth bass fishing too. (check with office for specific rules about boats and fishing Regulations). We also have a private boat launch and docks.
Come enjoy the Maine outdoors!
Abundant wildlife is just outside your cabin door. Moose, deer and other animals will come to the pond at night to feed and drink. If you want fantastic photos just jump in a boat, canoe or kayak and paddle around. If you're a little more adventurous, try a canoe trip down the Moose River. For a small fee, we can drop you off in town and you can paddle down river and make a day of it, have a picnic along the way, throw in a line and just enjoy the wildlife and peacefulness of being in the Western Mountains of Maine. There are plenty of ATV, hiking and biking trails starting at your cabin door. Whitewater rafting is also available in the area. Come and try us out!
Tent sites are also available for $20.00 a night per person plus 9% lodging tax. Kids 5 and under free. Use of Shower house and Bath are free. Use of canoes, row boats, kayak and paddle boats are included in price.

If you have questions or you would like to make reservations, please call
(207) 668-4872
Home (207) 668-9031