Bear Hunting Packages
Randy Petrin (Registered Maine Guide)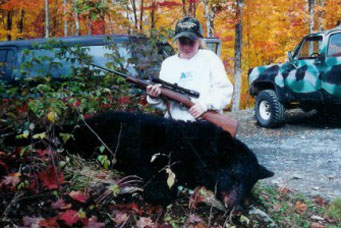 The western mountains will offer you a chance to harvest a beautiful bear. We have over 40 years guiding and hunting experience in this area. Come hunt over active bait sites, baited daily with donuts, candy, granola, and pastries. Hunt from ground blinds or stands.
BAIT HUNTERS will leave early in the afternoon and will be picked up, brought to hunting area and returned to their cabin in the evening.
DOG HUNTERS will leave early in the morning for a fast paced hunt with great hounds and handlers. They are from N. Carolina and will work extremely hard for you.
We also have free coyote hunting over bait for guests.
Non-resident licenses are available locally or may be obtained from the State of Maine: Click here to apply. (Prices listed do not include the agent fee)
6 DAY HUNTS FOR BIG GAME
TRY ONE OF THESE GREAT PACKAGES
Do It Yourself
$1,000.00

Hunt includes lodging and 2 buckets of bait a day. You tend your own sites.
Bear Over Bait
$1,400.00*
*bring 6 or more people and it's $1,000/person
Bear with Hounds:
$1,800.00
Bring own dogs. October 1st through March 31st.
Bear with Bait/Hound Combo:
$2,000.00
Please call (207) 668-4872 or email us for additional information on time and location.
Fully Guided Hunts
Includes guide, lodging, transportation to and from hunting area and some care of the animal. Lodging not included in day hunts. Please call (207) 668-4872 or email us for more information.
Over 50 years Guiding Experience!
If you have questions or you would like to make reservations, please call
(207) 668-4872
Home (207) 668-9031